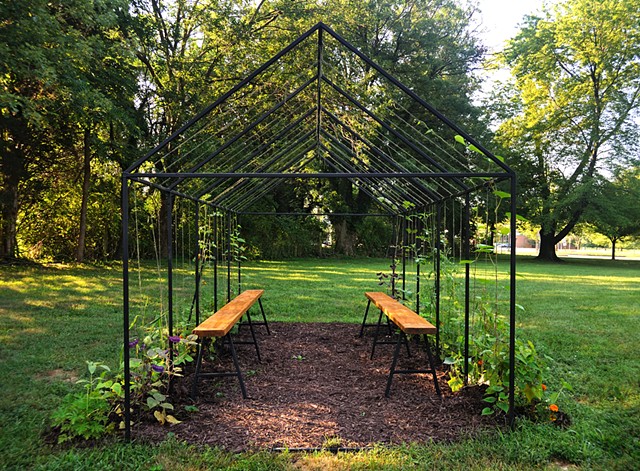 A Place for Receptive Silence
steel and wood and plantings
variable; structure is 6feet x 12 feet.
2017
Installed at the Sandy Spring Museum in Sandy Spring, Maryland 2017.
This work is in response to the living community and history of Sandy Spring, Maryland. Sandy Spring is home to one of the oldest Friends communities in the United states (established in 1753). A meeting house built in 1817 is located a short distance from the museum. The structure I built is a scaled-down version of the existing meeting house. Its dimensions are approximately 6 feet high, by 6 feet wide by 12 feet long. Simple benches in the structure reflect the meeting style of the Friends Community. (Members face each other during their meetings. Silence and contemplation are a large part of their meeting protocol.) The selected plants are mostly edibles that would have been crops during the last 100-150 years.
A wonderful text exists that chronicled the Friends Community from its 18th Century beginnings. After reading excerpts from the "Annals of Sandy Spring" I felt that the Friends community was an essential part of the history as well as the present and the future of Sandy Spring. The Annals consist of listings of births, deaths, marriages, travelogues, earthquakes, crop yields, and visits from illustrious persons including Susan B. Anthony. The annals illustrate a generosity of giving of the human spirit and respect for each other and the earth. The Quaker settlement of Sandy Spring is integral to the place called Sandy Spring. Sandy Spring is a settlement where suburbia encroaches with its daily fast paced challenges and yet the Quaker community stays abreast of modernity and rooted to its core beliefs. It is clear to me that the Community of Friends' life work continues to center on spiritual growth, an equality of all people, and wonderful embrace of our place on this planet even as suburbia encroaches ever closer.